JEFF WAGNER

Hand Crafted Split Cane Fly Rods
(scroll all the way down)
NEW WAGNER CLASSIC SERIES
Over the years we've had the privledgeof examining, repairing and restoring classic cane rods. The rods that struck me the most are teh early rods of Leonard and Ed Payne. Due to their rarity and age, finding a fishable example is increasingly difficult. In my mind, these aare some of the greatest rods ever made, and I especiallly admire the intricately detailed metalwork.
It has been a long time dream and goal to build all of our own hardware. With a substantial investment in machinery, tooling and time in the shop, in 2011 we launched a new series of rods:
The Wagner Classic.
These rods feature our metalwork we builld personally. These rods are our own humble tribute to the craftsmanship of yesteryear and feature:
Bimetal, Waisted & Knurled Step-Down ferrules turned from solid 18% Nickel Silver bar stock with hand-formed Duronze welts.
Medium flamed cane.
Several attractive reel seat choices, including a bimetal pocketed full Nickel silver and Duronze seat, cap and ring seat, and screw lock seat with proprietary round thread form.
Immaculate cork grip fashioned from 3/8" wide cork rings.
Full intermediate wraps and signature wrap.
Each rod is unique. Rather than working from ridgid specifications, each will incorporate creativity, personal consultation with the customer, and will reflect traditional manual machining - not mass production.
Bulls eye style 18% Nickel silver fitted ferrule plugs.
Each rod is produced from One Culm of Bamboo. Tips are Mirror Matched. Three piece rods, when possible, have Mirror Matched Butt and Mid section.
Complete with two tips, cloth bag and aluminum rod case with solid brass knurled caps.
$500 Deposit at time of order.
2 - Piece - $3600.
3 - Piece - $3700.
Signature Series ...
The following taper list describes rods considered excellent "all-round" types as well as those suited for more specialized fishing situations. Our tapers are derived from our respect for over 100 year of rod building tradition combined with today's superior finishes, adhesives and components. This list is by no means complete. We will be happy to make a rod to your specifications.
Except as noted, all rods are available to two or three piece models. Line designations are for double taper lines.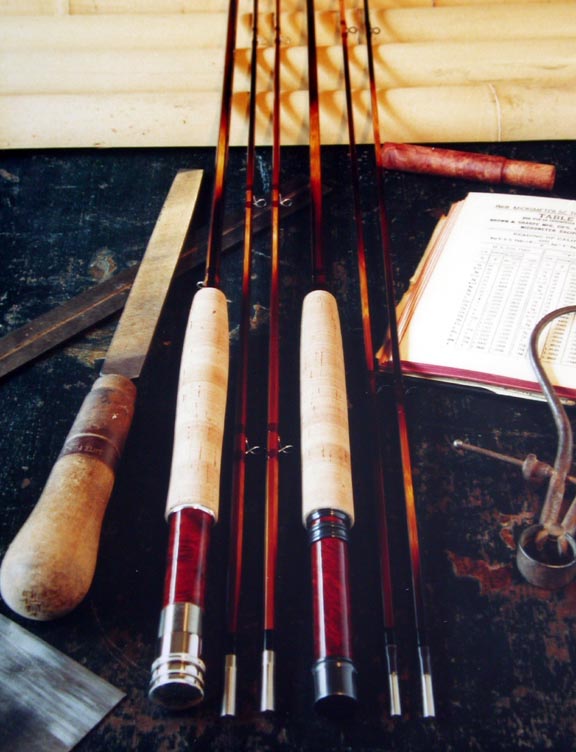 SIGNATURE SERIES
2 PC- $2395.
3 PC - 2545.
SALMON - $2695.
Swelled butts, hollow fluting, quads additional $100. each
Rod
Length

Line
Weight

Description and Notes

6'
6' 3"
6' 3"

3 wt.
3 wt.
4 wt.

The ultimate midge rods, very light and delicate. The three piece configurations pack down to about 25 inches in length. Super rods for small streams and backpacking trips.

6' 3"

3-4 wt.

Designed to cast either a DT-3 or DT-4. Two piece only. A fantastic spring creek rod where delicacy of presentation is of utmost importance.

6' 8"

3 wt.

A medium fast rod, the taper taken from F.E. Thomas. Made with very fine tips and a mildly swelled butt. This rod is a joy to cast from 0-35 feet.

7'

1-2 wt.

Taper from a classic Leonard. A medium to slow action rod, this rod is a real "kick" to cast and makes a 6" brook trout seem like a monster. Ultra fine tips and a joy to cast with either a DT-1 or DT-2. Unlike so many graphite 1-2 wt. rods, you can feel this rod load at all distances.

7'

3 wt.

A medium fast action rod with a moderately swelled butt. This rod is a joy with a DT-3 line. The perfect rod for small streams and tiny flies.

7'

4 wt.

A general purpose rod. A "pocket rocket". Our personal favorite for an all-around rod.

7' 3"

4-5 wt.

A versatile rod with the ability to cast either DT-4 or DT-5 with equal facility. This rod is our largest seller and is a fast rod with a DT-4, slightly slower with a DT-5, yet doesn't feel over-lined or overstrained.

7' 6"

3 wt.

A medium fast action rod. Perfect for delicate presentations in demanding fishing situations. A great spring creek rod.

7' 6"

4-5 wt.

Perfection in an intermediate length 4-5 wt. rod.

7' 6"
8'

5 wt.
5 wt.

Work well at all distances and can also throw an incredible amount of line.

8'

3 wt.

Supreme delicacy in a length and line weight not generally available in a cane rod. Longer length facilitates mending line yet has a very sensitive tip to protect ultra-fine tippets. Ideal for flat water midge fishing.

8'

4-5 wt.

Taper from a classic F.E. Thomas. A delightful medium fast action rod that can lay out a line with great delicacy.

8'

5-6 wt.

Taper taken from a classic Leonard Hunt. A fast action rod with plenty of heft in the butt section, this rod can really cast a line. Perfect for fishing larger water, or when needing to punch larger flies through the wind.

8' 6"

4 wt.

The ultimate, long 4-wt. Offered in two tip configurations, adding to the versatility of this unique model. Available in three piece only.

8' 6"

5 wt.

Offered in two configurations, the 8' 6" - 5 wt. rod was deemed most versatile in "Fishing Bamboo" by John Gierach. One model is a very quick and progressive casting taper. The second is lighter, more statley and relaxed. Please specify your preference. Available in three piece only.

8' 6"

6 wt.

This is a great streamer and smallmouth rod. The extra length facilitates casting from a float tube. Available in three piece only.

8' 6"

8-9 wt.

Taper taken from the Paul Young Texas General. Very powerful, yet a delight to cast. Perfect for those who enjoy fishing cane for steelhead, salmon and bass. Available in three piece only.

9'

8-9 wt.

This rod is designed to meet the needs of the Great Lakes steelhead fisherman - a cane rod to cast weighted flies. Also makes an excellent light saltwater rod. It will throw an entire Wulff Triangle taper 8-9 with ease. Complete with a removable extension butt. Available in three piece only.
Quadrate Signature Series ...
In 1999 we began working in the quadrate idiom to increase the scope of out skills and rod offerings, and this year we have officially added them to our lineup. In the tradition of past masters such as Edwards and Carlson, quadrate rods may offer some unique benefits over traditional 6-strip hexagonal construction.
The quadrate aficionado notes that the four strip design offers a greater amount of stiffness on a weight basis, fewer glue seams with no clue seams in the casting plane, a "truer" casting plane, a greater concentration of power fibers, and a greater recovery rate from flexing and vibration.
All Signature Series rod tapers are available in the Quad configuration. We will run batches of Quadrates from time-to-time through our yearly production and, as possible, even include some quads in our Patriot Series rods. Please contact us for availability and delivery times.
T & T / Heddon Style Swelled butt add $100.
Quadrate Rod "Quads" and Pentagonal rods "Pents' add $150.
Deposit remains $400. on Signature Series models
Two Piece/Two Tip Rods

$2175.00

Three Piece/Two Tip Rods

$2325.00

8'6'' and 9' 8-9 wt. Rods

$2445.00

Quadrate Rods (limited production) - $150 extra
Patriot Series ...
A no frills, economically priced line of cane fly rods. High quality casting tools for those desiring as introduction to the exceptional qualities of cane rods.
No deposit on Patriot rods
Patriot Rods have a crisp, responsive, dry fly action.
Two Piece, Single Tip Flamed Cane.

Proprietary, Hand Rubbed, Penetrating Polymer Finish For Low Maintenance.

Modified Cigar Grip with Oxidized Nickel Silver Butt Cap and Slide Band.

Oxidized Ferrules, Chrome Guides and Titanium Carbide Stripper.

Siena

Brown, Color-Preserved Silk Wraps Complementing the Flamed Cane.

Complete With Cloth Bag and Aluminum Case.

Available in a choice of Three Models Covering Six Line Weights, Specially Designed to Offer Versatility For Various Fishing Situations.
| | |
| --- | --- |
| Two Piece/One Tip Rods | $795. - $400. extra tips |
| Quadrate Patriots (limited production) | $850.00 |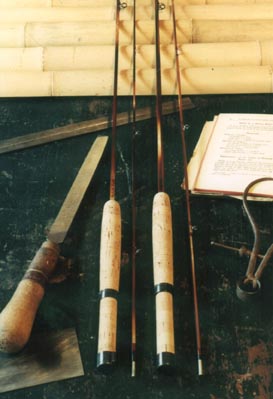 Repair and Restoration ...
The same care and consideration that goes into our rod building is extended to our
bamboo rod repair and restoration service.
Our work is always of the highest quality and is done with an eye for historic integrity. References from people familiar with high quality tackle can be provided.
Each rod is quoted on an individual basis depending on the work and materials required. A firm quote will be provided prior to the start of any repair or restoration.
All Information Above ©2003 J.D. Wagner Inc. All Rights Reserved
Contact:
Robert R. Selb
Classic Fly Fisherman
222 S. Broad St.
Lansdale, PA 19446
Visa and Mastercard also check or Money Order, Paypal can be used on orders under $150.00.
Toll Free 1-866-930-3667 or 215-412-3667
E-mail Classicflyfishermanrrs@gmail.com